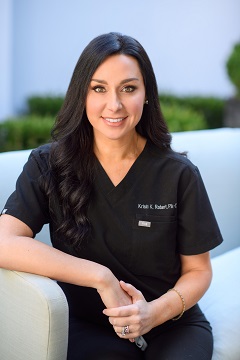 Kristi Robert has been a Physician Assistant specializing in Aesthetic Medicine at Williamson Cosmetic Center in Baton Rouge for over 10 years. Kristi is among the top 0.1% of Allergan providers in the United States for Botox & Juvederm and has established herself as a leader in the field and one of the top physician assistant injectors in the country.
Kristi received her undergraduate degree from Louisiana State University and graduated from Our Lady of the Lake College with a Master's Degree in Medical Science. She obtained certification as a Physician Assistant through the National Commission on Certification of Physician Assistants in 2009 and is a member of numerous professional organizations. In 2008, she created the first Aesthetic Medicine Clinical Rotation for Our Lady of the Lake College Physician Assistant Program. Professionally Kristi trained with the Williamson Cosmetic Center and was asked to join the practice in 2009. She shared the vision of WCC to provide full practice care to meet all aesthetic needs of patients including post-operative care and non-surgical procedures like that of injectables and lasers.
Kristi partners with aestheticians, physician assistants, nurse practitioners and surgeons to help continue the Williamson reputation of excellence. Kristi is always at the forefront of new technology and her technical skills have led her into a development and trainer role on The Aesthetic Platform. This company launched an online training and virtual training platform for practitioners to easily learn new techniques or to advance their existing practice.
Kristi is highly regarded and respected by her peers and patients as a medical practitioner who maintains the utmost level of quality service and outcomes. She has performed over 4,500 dermal filler treatments and over 13,000 neurotoxin treatments. She proudly serves as a national faculty trainer for Allergan (makers of Botox and Juvederm) where she trains doctors, PAs, and nurses all over the South. In 2018, Kristi was handpicked as one of the Allergan Cosmetic National Ambassadors.
Kristi will listen to your concerns and goals and present you with a customized treatment plan. She is proud to bring the same high level of excellent cosmetic and medical services to her patients as her other Williamson Cosmetic team members.