Exilis is an innovative skin-tightening system that can add contour to your face and neck while taking years off your appearance. Exilis is ideal for our busy clients because it requires no downtime and no anesthesia—not even an ibuprofen. Exilis uses radio frequency to deliver deep, thermal heat to the eye, cheek, jowl and neck areas. This causes the cell-producing connective tissue to remodel the collagen and tighten the skin. In as few as four treatments, skin appears tighter and curves of the cheekbones and throat appear more contoured. The system utilizes one of the most advanced delivery systems on the market; a hand-held applicator that the operator messages over the clients' skin. The massaging motion, combined with deep thermal heat, make Exilis feel more like a relaxing, restoring spa treatment than a cosmetic procedure. Each area needs, on average, only 20 minutes of treatment per session. We recommend four to five treatments spaced one week apart. Results have been proven to last up to 6-8 months.
Before and After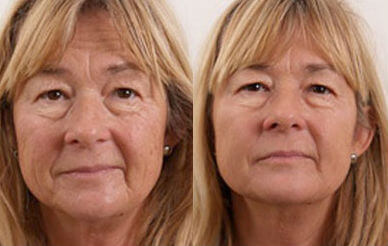 Before and After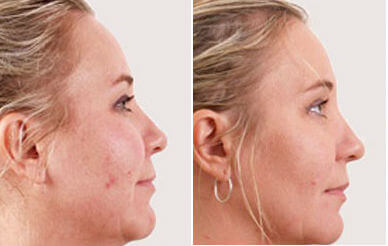 Common areas treated include:
Face
Neck line
Abdomen
Arms
Thighs
Hips
Knees
Buttocks
The number of treatments needed depends on the size and condition of the areas being treated. Multiple treatments are recommended and results are gradual over a two to four-month period.